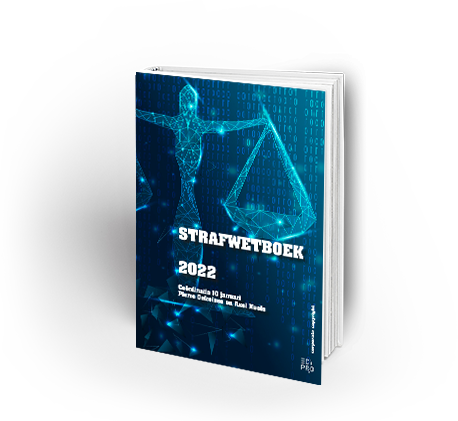 Strafwetboek - CoŲrdinatie 2022
Met de recente hervorming van het Strafwetboek wilde de Belgische Staat de wetgeving preciezer, eenvoudiger en consistenter maken.
Aangezien het initiële Belgisch Strafwetboek dateerde van 1867, drong een aanpassing aan onze moderne maatschappij zich op.

Na goedkeuring van het wetsvoorstel door de ministerraad in 2017 werd een volledige herziening doorgevoerd om het voor iedereen leesbaarder te maken.

Dit Wetboek van Strafrecht, bijgewerkt in januari 2022, maakt het gemakkelijker leesbaar door in de tekst elk artikel dat in de loop van 2021 is gewijzigd of in werking is getreden, vetgedrukt te markeren.

Om het in praktisch hulpmiddel te maken.
Aantal pagina's : 216
Uitgavedatum :
Aangeraden door andere klanten...
Vastgoedrecht in BelgiŽ 2023
2023 - Huurder, mede-eigenaar of eigenaar, iedereen heeft te maken met bouwrecht...
Lees meer
Handleiding vennootschapsbelasting
Het is de referentie voor wie de logica machtig wilt zijn, om de belasbare basis voor de vennootschapsbelasting te kunnen berekenen.
Lees meer
Jaarlijkse Afsluiting 2023
Een praktisch hulpmiddel om het boekjaar af te sluiten.
Lees meer